Filed under:
Ideas
by Jeremy on Friday, 2nd July 2010 at 8:00 am
I feel like I've been hammering away at the depressing and intense posts. Considering it's a holiday weekend, I decided to go back and find more lighthearted things that I've put aside including a sweet talk from Douglas Adams.
Ancient Whale + Killer Shark = Hypercarnivorous Whale (Wired: Science)–If that headline doesn't catch your eye, nothing will. "The longest of Leviathan's teeth measure about 14 inches including the root, more than 40 percent longer than those of today's sperm whales. And, Lambert notes, the longest tooth of Sue, one of the largest Tyrannosaurus rex specimens yet found, measures only 10.6 inches from root to tip." And it's named after Herman Melville who penned Moby Dick.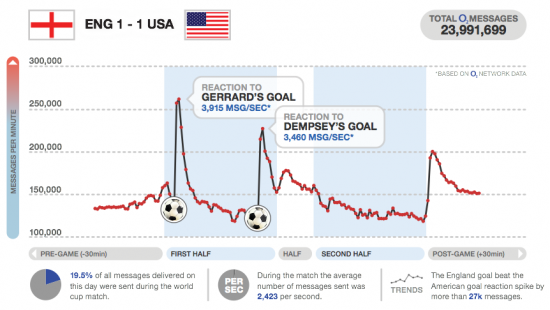 Texting volume during World Cup matches (Flowing Data)–"O2, a UK mobile service provider, shows us texting volume during the World Cup and highlights the points of interest. England scores a goal and there's a flood of text messages. Goooal." Flowing Data also has a cool graphic of water consumption in Edmonton during the Olympic hockey gold medal between Canada and the US.
News from the Moon! (Starts With a Bang!)–"Back when the space race was in its heyday in the late 1960s, it became clear that the United States was going to beat the Soviet Union to landing a man on the Moon. (That's Neil photographing Buzz, above.) But that didn't mean the Soviet Union wasn't going to do something spectacular in their own right." High resolution photos of the moon find a Soviet moonlander lost for 39 years–and then they shoot lasers at it.
And lastly, a talk by the late Douglas Adams (author of The Hitchhiker's Guide to the Galaxy and Last Chance to See–my favourite Adams' book). Adams was truly a brilliant mind. If you can find a copy of Last Chance to See, read it. And if you like biology and Adams, watch this (h/t richarddawkins.net):